I was rewatching an episode of one of my favourite new TV shows today. This one is the supernatural crime show, Grimm. If you haven't seen it, I highly recommend it. It's sort of a cross between Castle and Once Upon a Time, which are incidentally also among my favourite-est shows EVAR.
Anyhoo. We were at an episode where one of the main characters is pretty much playing a ripoff of the DJ known as deadmau5. This DJ was called Wretched Cat and wore the same kind of deadmau5 mask - but a kitty cat face. So, this rave scene really made me want to listen to dance/electronic musics. Thus my quest began! I now have several new songs to listen to; stuff by Skrillex, Wolfgang Gartner, Zedd, F.O.O.L, Designer Drugs and the Bloody Beetroots. Hopefully these will help get my writing brain into gear.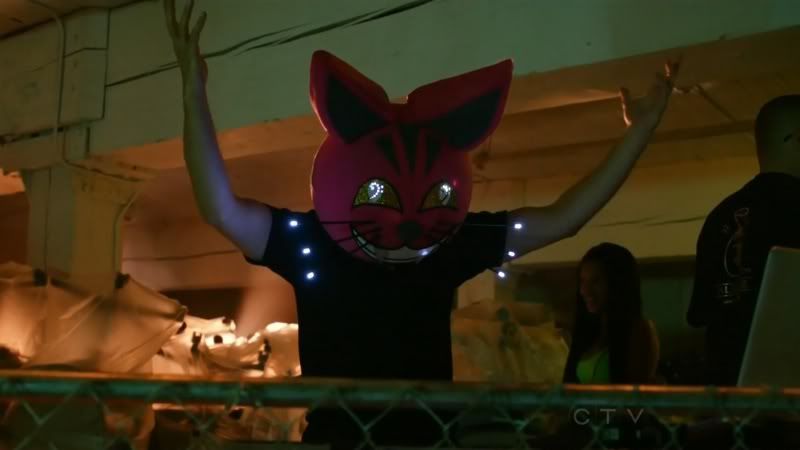 DJ Retchid Cat droppin' the beatz
Speaking of which, somebody tell me to get off my butt and continue writing this damned thing! I have been so distracted of late. Fishing, parents telling me to get a job, TV, cleaning, shopping, cooking. It seems that I do a way lot less while I'm at university. Because of this lack of writing, I have no new morsels for you to read, so instead I will provide you with some of the notes I have at the end of the current manuscript. They were the beginnings of our main characters Evie and Rook and what their names could have been.




Hero

·

Remus

Llewellyn (Welsh) Descendant of Llewellyn (Lion-like).

Rook Llewellyn



Foibles: Tactless. Harsh. Distrusting. Man of few words. Alcoholic. Aimless. Stubborn.

Traits: Heart of gold. Whittler. Singer. Fighter.




Heroine

·

Amelia

Wray (English) One who came from Wray (isolated place).

Evie Wray



Foibles: Frail. Naive. Stubborn. Klutz. Panicky. Sulky. Short.

Traits: Compassionate. Dancer. Dreamer. Bold.
Feeling: Like headbanging. *raves*
Eating: Not much. Had leftover pizza for tea. It filled me up pretty well.
Wearing: Short denim shorts and my custom made Bad Wolf tee.
Listening to: The Devil's Den by Skrillex and Wolfgang Gartner